By using this service, in any form, the user agrees to indemnify and hold harmless the Brevard County Clerk of Court and anyone involved in storing, retrieving, or displaying this information for any damage of any type that may be caused by retrieving this information over the Internet.
"We cannot think of anything Leslie could have done better in the sale of my late father's home. While his home was beautiful and in a fantastic location, it was very dated and we live 400 miles away. Leslie knew the local market, gave us a realistic opinion of the value and put a lot of time and thought into what our priorities needed to be in order to sell the house quickly. She respected our thoughts and concerns throughout the process. The contractors she recommended for the updates did a great job. We have never had a real estate agent keep us as up to date as Leslie did. As closing approached, she went out of her way to assist us in tracking down the necessary documentation and signatures which was a huge help as we work and are so far away from Brevard. The most important things to me were that she was a pleasure to interact with and we came to trust her more and more as time went on."
Pisgah Forest Real Estate | Balsam Grove Real Estate | Rosman Real Estate | Penrose Real Estate | Cedar Mountain Real Estate | Lake Toxaway Real Estate | Cleveland Real Estate | Etowah Real Estate | Horse Shoe Real Estate | Sunset Real Estate | Mills River Real Estate | Marietta Real Estate | Canton Real Estate | Sapphire Real Estate | Pickens Real Estate | Hendersonville Real Estate | Candler Real Estate | Mountain Home Real Estate | Tuxedo Real Estate | Arden Real Estate | More
Boundaries © 2014-2018 Pitney Bowes Inc. All rights reserved. School attendance zone boundaries are subject to change. Check with the applicable school district prior to making a decision based on these results.
Real estate appears in several delightful markets. These include Melbourne FL homes, West Melbourne homes, Viera homes, and Rockledge homes. Brevard County FL homes for sale in these communities come beautifully wrapped in great values, styles and floor plans. They offer especially pleasant surprises in relaxed coastal living. Homes for sale in the county attract young and old, singles and families of every size.
While Brevard County has transportation available in the usual modes for a coastal county—highways, shipping, and airlines—it has the addition of space transportation, making it unique in the world.[248]
There are 16 autonomous municipal governments within the county. The various cities, towns and villages of Brevard have varying reliance on services provided by the Brevard County government. There are about 100,000 homes outside organized municipalities, whose occupants are directly served by the county government.[100]
Have a real estate question? Our real estate professionals are standing by to answer your questions and serve your needs. Whether you live in Minneapolis, St. Paul, or elsewhere in Minnesota, our Realtors® are at your service!
In 2011, the majority of groceries were sold in chain stores. Publix has 23 stores; Winn-Dixie has 10; Wal-Mart has 12 stores; the county has three warehouse clubs. 38% of groceries were purchased at Publix, 30% at Wal-Mart superstores, and 7% at Winn-Dixie.[220]
MLS Today: In the UK there are a number of seedling MLS systems that attempt to connect agents horizontally. INEA,[20] Lonres[21] and AgentHub.com[22] are examples of sites that serve similar functions to US MLS counterparts, however there are insufficient data to conclude that any of these systems are used popularly across the country.
In 2008, the county had 11,000 hotel rooms available. In July 2007, there was a 66.1% occupancy rate.[191] In 2008, the county had a nearly identical 81%+ occupancy rate in March and April. This fell to a seasonal low of 42.3% in September.[192] In January 2010, the average hotel room rate was $88.25.[193]
With extensive knowledge in real estate, Denise Sabol of Brevard County Realty can help you with all your real estate needs in this exceptionally beautiful market. With years of experience in real estate and an insider's perspective on the county and its communities, including what Viera, Melbourne, West Melbourne and Rockledge have to offer, Denise is committed to her clients' success and satisfaction.
"Many seller's agents will continue to show the property to potential buyers up until the very last minute, in hopes of obtaining an even more compelling offer," says Gary Malin, president of Citi Habitats in New York City.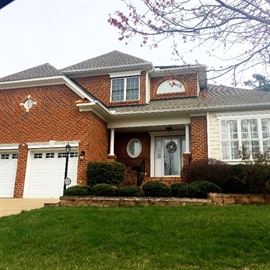 Monthly foreclosures exceeded 746 from January 2009 through October. Maximum monthly home sales were less than 584 during that time frame, creating an accumulating backlog of unsold homes.[157] In 2010, there were 15,000 more vacant homes than the economy could absorb; the population was not growing.[147]
The U.S. Department of Justice filed an antitrust lawsuit in September 2005 against the National Association of Realtors over NAR's policy which allowed brokers to restrict access to their MLS information from appearing on the websites of certain brokers which operate solely on the web.[38] This policy applied to commercial entities which are also licensed brokerages, such as HomeGain, which solicit clients by internet advertising and then provide referrals to local agents in return for a fee of 25% to 35% of the commission.
Property values tend to go up after infrastructure improvements are made. In northern Virginia, expansion of the metropolitan subway system had a tremendous impact on property values along the new tracks. Huge condo, apartment, retail, office, and mixed-use projects followed. It triggered a real estate boom.
In the Czech Republic, MLS – Multiple Listing Systems do exist via system names IMMO2, Czech Realtors operates in this MLS system for the Czech Republic. IMMO2 is officially associated with many realtors across the Europe and lawfully use the trademarked term "IMMO2" (It means Immobilien or immovable at square). Czech Real Estate Agents cooperates via this page[19]
Addison Real Estate | Irving Real Estate | Duncanville Real Estate | Hutchins Real Estate | Coppell Real Estate | Garland Real Estate | Desoto Real Estate | Fort Worth Real Estate | Richardson Real Estate | Carrollton Real Estate | Lancaster Real Estate | Wilmer Real Estate | Sunnyvale Real Estate | The Colony Real Estate | Cedar Hill Real Estate | Mesquite Real Estate | Sachse Real Estate | Plano Real Estate | Euless Real Estate | Grapevine Real Estate | More
Prior to the creation of districts in 1967, state representatives were elected by county. Beginning in 1967, Brevard County was represented by the 71st, 72nd, 73rd, and 74th districts. Following redistricting in 1970, the county was represented by the 44th, 45th, 46th, 47th and 48th districts. Following redistricting in 1982, the county was represented by the 31st, 32nd, 33rd, 34th, 77th, and 78th districts. Following redistricting in 1992, the county was represented by the 29th, 30th, 31st, and 32nd districts. Following redistricting in 2002, the county was represented by the 29th, 30th, 31st, 32nd, and 80th districts.
The average non-foreclosed house sold for $143,000 in 2010, down from $147,000 in 2009. The average foreclosed house sold for $70,000 down from $81,000 in 2009. 25% of the houses sold in 2010 had been foreclosed. Total foreclosures rose from 2,200 in 2009 to 4,100 in 2010.[159]
The Space Coast Early Intervention Center is a nationally recognized not-for-profit pre-school and therapeutic center that offers care and aids with the development of small children with special needs.[226] Children are treated and educated with the specific goal of mainstreaming children diagnosed with the following into public school: Down syndrome, Williams syndrome, cerebral palsy, deletion syndrome, PDDs including Rett syndrome, autism, and Apert syndrome, as well as children with visual, speech and hearing delays.
Most MLS systems restrict membership and access to real estate brokers (and their agents) who are appropriately licensed by the state (or province), are members of a local board or association of realtors, and are members of the applicable national trade association (e.g., NAR or CREA). Access is becoming more open (e.g., without joining the local board)[citation needed] as Internet sites offer the public the ability to view portions of MLS listings. There still remains some limitation to access to information within MLSes; generally, only agents who are compensated proportional to the value of the sale have uninhibited access to the MLS database. Many public Web forums have a limited ability in terms of reviewing comparable properties, past sales prices or monthly supply statistics. This represents the cornerstone of several ongoing arguments about the current health of the real-estate market, which are centered on free and open information being necessary for both the buying and selling parties to ensure fair prices are negotiated during closing, ultimately allowing a stable and less volatile market.
The DOJ's antitrust claims also include NAR rules that exclude certain kinds of brokers from membership in MLSs. NAR has revised its policies on allowing access on web sites operated by member brokers and others to what might be considered as proprietary data.[39]
The School Board of Brevard County, Florida prohibits discrimination on the basis of race, color, national origin, sex (including sexual orientation, transgender status, or gender identity), disability (including HIV, AIDS, sickle cell trait), pregnancy, marital status, age (except as authorized by law), religion, military status, ancestry, or genetic information or any other factor protected under applicable federal, state, or local law in its educational programs, services or activities, or in its hiring or employment practices. The district also provides equal access to its facilities to the Boy Scouts and other patriotic youth groups, as required by the Boy Scouts of America Equal Access Act. Questions, complaints, or requests for additional information regarding discrimination or harassment may be sent to the following equity coordinators:
Black (non-Hispanic) (10.1% when including Black Hispanics): 9.7% (2.2% West Indian/Afro-Caribbean American [1.0% Jamaican, 0.6% Haitian, 0.1% Trinidadian and Tobagonian, 0.1% Other or Unspecified West Indian, 0.1% British West Indian, 0.1% Bahamian,] 0.6% Subsaharan African)[81][83]
Bahrain Real Estate Multilevel Listing Solution – mlsBH is a localized and enhanced version of RETS based MLS service but still in its early stage of implementation and integration within the property sector of Bahrain. mlsBH is owned and operated by a private company[15] since 2015[16] and unlike conventional MLS; is not restricted to dealing with brokers only. Via RealtorBH; a set of FSRBO classes which along with extended broker classes are facilitated to directly submit their exclusive listings, which after verification are centralized in mlsBH. Furthermore it also directly syndicates centralized listings on RealtyBH – a local comparable of US' Zillow. With the introduction of Bahrain RERA in 2018 operators of mlsBH aligned themselves with the policies of the regulator.
The United States Office of Management and Budget has designated Brevard County as the Palm Bay-Melbourne-Titusville, FL Metropolitan Statistical Area.[96] The United States Census Bureau ranked the Palm Bay-Melbourne-Titusville, FL Metropolitan Statistical Area as the 98th most populous metropolitan statistical area and the 96th most populous primary statistical area of the United States as of 1 July 2012.[97][98]
I UNDERSTAND THAT THE TERMS OF USE APPLICABLE TO THIS SITE CAN BE VIEWED BY CLICKING ON THE WORDS "TERMS OF USE" IN THIS SENTENCE. BY PROCEEDING TO SEARCH OR OTHERWISE USE THIS SITE, I AGREE THAT I HAVE REVIEWED OR HAD THE OPPORTUNITY TO REVIEW THE TERMS OF USE AND THAT I WILL BE BOUND BY THOSE TERMS OF USE.
Pursuant to §119.071(3), F.S., a social security number, bank account, debit, charge or credit card number must be confidential and exempt only as provided in §119.071(5)(a), F.S., and §119.071(5)(b), F.S., respectively.
84,401 households in the county (38%) received social security payments in 2009 averaging $16,136 for a total of $1.7 billion annually. 53,717 (24%) received pension payments averaging $24,327 for a total of $1.3 billion annually.[153]
The county lies within five state representative districts. These seats are held by Tom Goodson representing the 50th district, Ritch Workman representing the 52nd district, John Tobia representing the 53rd district, Steve Crisafulli representing the 51st district, and Debbie Mayfield representing the 54th district.
Health First is the largest healthcare provider in the county, consisting of three not-for-profit hospitals—Cape Canaveral Hospital in Cocoa Beach, Holmes Regional Medical Center in Melbourne, and Palm Bay Community Hospital in Palm Bay. Besides hospitalization, services include outpatient centers; the county's only trauma center; home care; specialized programs for cancer, diabetes, heart, stroke, and rehabilitative services; central Brevard's largest medical group; three fitness centers; and Medicare Advantage, commercial POS, and commercial HMO health plans. Health First tries to integrate quality healthcare services with state-of-the-art technology.[231]
Many ALA-accredited programs provide distance-learning opportunities for students through a variety of delivery methods (e.g. online courses). In some cases, students can complete the entire program at a distance; in other cases, some on-campus courses or regional residency may be required [8].
MLS History in the United Kingdom. In the 1980s and early/mid 1990s agents did work together much like the early U.S. and Canadian realtors via paper-based forms which had tick-boxes offering a listing from one agent to sub-agents. Attached would be the property details pre-agreed with the owner for correctness, a photographic negative of photo; later a similar procedure was carried out by email and graphic computer file. Agents involved could copy and process the paper- or email-based property data. The main agent was treated as the vendor; all sales progression went through her and commission was split upon completion.
In Canada, the national MLS is a cooperative system for the members of the Canadian Real Estate Association (CREA), working through Canada's 101 real estate boards and 11 provincial/territorial associations. Both the terms Realtor and MLS are registered trademarks for both the members and data of the CREA. The Real Estate Board of Greater Vancouver claims to have pioneered the first MLS in Canada.[26] A publicly accessible website (at realtor.ca, formerly mls.ca) allows consumers to search an aggregated subset of each participating board's MLS database of active listings, providing limited details and directing consumers to contact a real estate agent for more information.
The county had 1,050 restaurants in 2007 and nearly that many (1,040) in 2010. There were 22,600 leisure and hospitality workers in the county in 2006. This figure includes hotel workers. That figure had dropped 8.5% to 20,700 in 2010.[172]
Live oak trees, various grasses, and juniper plants were sufficiently common to generate pollen noticeable by some people in February 2011.[65] Native trees include cabbage palm (the state tree of Florida), fringetree, coral bean, sweet acacia, geiger tree,[66] firebush, beautyberry, coral honeysuckle, and blanket flower.[67] Native plants include sea grape, red mulberry, purslane, dandelion, Spanish bayonet, blackberry, Jerusalem artichoke, dogwood, and gallberry.[68]
About Homes And Land: Homes & Land Magazine is the most popular and widely read real estate listings publication in the U.S. and Canada. Each magazine contains detailed listings for homes, houses, condos and land for sale, as well as new homes and apartment rentals. Each listing is also available here on our web site through our listings search. You can also order magazines for your local area to carry with you to find homes for sale.
All measurements and all calculations of area are approximate. Information provided by Seller/Other sources, not verified by Broker. All interested persons should independently verify accuracy of information. Provided properties may or may not be listed by the office/agent presenting the information.
According to 2007 health risk data from the Centers for Disease Control and Prevention, Brevard County (Palm Bay-Melbourne-Titusville MSA) is tied for fourth highest among all Micro- and Metropolitan Statistical Areas in percentage of heavy drinkers.[235]
For assistance in obtaining a copy of the required document as filed by IRS, please contact the Official Records Department of this office at 321-637-2004.  Copies of recorded documents may be obtained only from this office for which the search was conducted.
In the United Kingdom it is more common for a vocational degree in library and information science to bear the standard designation MA or MSc. In most Commonwealth universities, bachelor's and master's programs have been merged to create the MLIS/MLISc degree. IFLA committees have discussed global standards for librarian credentials.[2]
The Multiple Listing Service, or MLS, is a collection of private databases developed and maintained by local real estate professionals that make it easier for professionals to market their listings to cooperative brokers. When a property is listed in a local MLS it is assigned a number, in chronological order of the listing. It is possible for two separate listings, listed in two separate MLS databases, to share the same MLS number. After being assigned an MLS number, the active listing is included on Realtor.com, a real estate website designed for consumers that features active real estate listings throughout the country.
COPYRIGHTED PROPRIETARY MATERIAL of MetroList Services, Inc. data maintained by MetroList® may not reflect all real estate activity in the market. All real estate content on this site is subject to the Federal Fair Housing Act of 1968, as amended, which makes it illegal to advertise any preference, limitation or discrimination because of race, color, religion, sex, handicap, family status or national origin or an intention to make any such preference, limitation or discrimination. MetroList® will not knowingly accept any advertisement for real estate which is in violation of the law. Users of this site are hereby informed that, pursuant to applicable laws and regulations, all dwellings advertised in the MetroList® service are available on an equal opportunity basis.
^ Jump up to: a b c d e f g h i "Brevard County: SELECTED SOCIAL CHARACTERISTICS IN THE UNITED STATES 2006-2010 American Community Survey 5-Year Estimates". factfinder.census.gov. Retrieved 23 October 2015.
The Brevard County government had annual expenditures just over $1 billion in the fiscal year 2009–2010, exclusive of the municipalities.[101] In 2009, real estate taxes for homesteaded property averaged .83% of the value of the property.[102] Real estate taxes are levied by each authority. They are collected by the County Tax Collector.[103] The total taxable real estate base was $33.7 billion in 2009.[104] County taxes rose 26.5% in total per capita revenue from 2002 to 2007, and 49.8% in property tax per capita in the same time frame.[105] Delinquent taxes were $36 million in 2008.[106]
The Brevard economy has been driven by Trade, Transportation and Utilities (18%), Professional and Business Services (17%), Total government (15%), Education and Health (14%), Manufacturing (12%), Leisure and hospitality (10%), Construction (6%), Financial (4%).
In 2005, the Next Generation Consulting for Leadership Brevard, a leadership development organization for local business and civic groups, and Brevard Tomorrow commissioned a survey of people 21-44. Basically, these people often found the area "boring", mainly because it is family-friendly at the expense of being singles-friendly. While this may have labor repercussions later, currently business is having no problems hiring.
Get instant access to a lot of relevant information about Brevard County, FL real estate, including property descriptions, photos, maps and Brevard County demographics. You can also use the map view to find homes and apartments for sale based on amenities in Brevard County, FL that you may want close by. There's information on the Brevard County, FL real estate market at the bottom of search results pages, if you're looking for an overview of the area. If you'd like to work with a professional, contacting real estate agents in Brevard County, FL is very easy. All you have to do is check the details for your favorite real estate listing, and use the form there. Or, if you'd like more options, click on the Tools tab and Find an Agent.
The additional benefit of MLS systems is that an MLS subscriber may search an MLS and retrieve information about all homes for sale by all participating brokers. MLS systems contain hundreds of fields of information about the features of a property. These fields are determined by real estate professionals who are knowledgeable and experienced in that local marketplace, whereas public real estate websites contain only a small subset of property data.[citation needed]
© 2018 Regional Multiple Listing Service of Minnesota, Inc. All rights reserved. The data relating to real estate for sale on this site comes in part from the Broker Reciprocity program of the Regional Multiple Listing Service of Minnesota, Inc. Real Estate listings held by brokerage firms other than TheMLSonline.com are marked with the Broker Reciprocity logo or the Broker Reciprocity house icon and detailed information about them includes the names of the listing brokers. TheMLSonline.com is not a Multiple Listing Service (MLS), nor does it offer MLS access. This website is a service of TheMLSonline.com, a broker Participant of the Regional Multiple Listing Service of Minnesota, Inc. Information is deemed reliable but is not guaranteed. Listings plotted on maps are only estimates.
Influenced by the presence of the John F. Kennedy Space Center, Brevard County is also known as the Space Coast. As such, it was designated with the telephone area code 321, as in 3-2-1 liftoff. The county is named after Theodore Washington Brevard, an early Florida settler, and state comptroller.